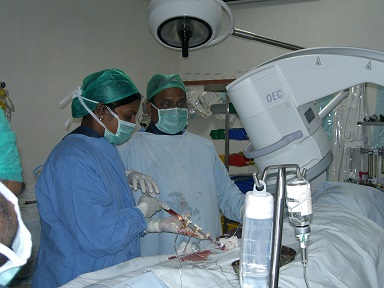 The cardiology department at the A.G.Padmavati's Hospital provides comprehensive patient-centered services of international standards. It consist of outpatient department, Cardiac emergency services, Coronary Care Unit, Prof. N. Sivarajan Cardiac Catherization Lab and Anreas Gruntzig Cardiac Catherization lab. All these interconnected areas work to best possible care for the patient with varying needs.
Our state-of-the-art cardiac catherization lab offers diagnostic catherization of the heart chambers, valves, coronary arteries, aorta and pulmonary vessels. interventional procedures performed include Percutaneous transcatheter Angioplasty (PTCA) of varying complexity, peripheral angioplasties and valvuloplasty. A 24 hours acute myocardial infarction intervention (primary PCI) program supported by onsite interventional cardiologist, cath lab nurse and technologist is available.
OUR
TEAM
The department consist of a team of highly skilled and experienced competent cardiologists Dr. G. Elangovan MD, DM, (cardio) , Dr. Sumathi Elangovan MD, DM, (cardio) and Dr.Anandaraja MD,DM, FECP, and more than 10 visiting cardiologists. They are ably supported by a large multi-disciplinary team comprising of cardiac intensivists, nurses (General and Specialist), radiographers and administrative staff. Consultants in other specialities work in close liaison with the cardiology team. Dr. G. Elangovan MD, DM, has underwent special training at North Memorial Medical Centre at Minneapolis Minnessota, USA in interventional cardiology.
The department is supported by a dedicated multidisciplinary team of experts- Prof. N. Nachiappan Senior Cardiothoracic Surgeon, Dr. C. S. Adhiganesh, Dr. R. Kannan Cardiac Anesthesiologists cum intensivists, Dr.Thiroumourougane Serane. V Consultant Neonatologist & Pediatrician and medical professionals from other related areas.
SERVICES OFFERED BY OUR DEPARTMENT
Invasive Cardiology Services

Diagnostic

Angiogram- Coronary, Renal & Peripheral
Cardiac catheterization study for congential heart disease
Electorphysiological Study

Therapeutic

​
Coronary Angioplasty including primary angioplasty
Valvuloplasty- balloon dilatation of mitral, aortic and pulmonary valve stenosis
Peripheral vascular interventions
Venacaval filter insertion
Implantation of pacemakers- temperory and permanent
Device closure
Balloon atrial septostomy
Radiofrequency abalation

Non Invasive diagnostic facilities

​ECG
Threadmill exercise testing
Holter Monitering
Ambulatory BP Monitoring
Echo cardiography, including transesiphageal echocardiography & stress cardiography
Carotid, Renal, Peripheral Doppler

InPatient Cardiology Services

Round the clock critical care facilities
Fully equipped coronary care unit
Emergency treatment of acute coronary sydromes
Enhanced External Counter Pulsation

Preventive Cardiology Services

Risk Factor Detection
Lifestyle modification of patients with atherosclerotic vascular disease, hypertension and diabetes
OUR PERFORMANCE
We have performed stenting for coarctation of aorta, and balloon artial septostomy for critical Transposition of great vessels. We have completed more than 100 electrophysiological studies and radio frequency ablation
PROBLEMS HANDLED BY US
The heart conditions and diseases we treat include but not limited to: Adult congenital heart disease, Atrial fibrillation, Cardiomiopathy, Ischemic heart disease, hypercholestrolemia , Coronary artery disease, Heart failure, valvular heart disease, hypertension, pericarditis, peripheral artery disease, arrhythmias