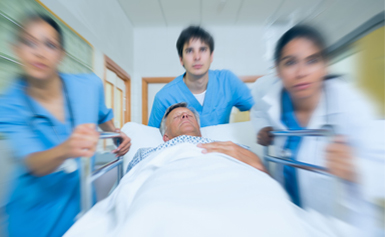 As pioneers of Emergency care in India, A.G.Padmavati's Hospital 24 hours Emergency Care guarantees you the highest levels of skill, expertise and infrastructure. Our protocols are designed to respond quicker, and have proven outcomes that are on par with the very best. We actively leverage our multi-specialty prowess to deliver the crucial edge in emergency care.
Accident & Emergency Care at AGP Hospital is an exclusive center committed to provide immediate treatment in any emergency. All the Emergency Medicine doctors, trauma surgeons and support staffs are trained to deal with cases from minor injuries to patients requiring advanced trauma care.
At Hospital Emergency Room, there is always easy and swift access to super specialist surgeons and cutting edge procedures. We have cardiologists, neurologists, neurosurgeons and trauma specialists who are on 24x7 standby for expert care during a medical emergency. Our long years of experience has taught us the value of every minute. In our Hospital Emergency Room, one can be assured of receiving globally benchmarked medical assistance as the team's singular focus is to help patients get better, faster.The primary objective of the centre is to provide acute care to injured patients. The emergency care staff are specially trained and equipped to respond to patients who need immediate and prompt medical care
We also track several important metrics to ensure that the care process is smooth and efficient every single time. Our 24-hour emergency and trauma care is geared to meet all medical and surgical emergencies, including polytrauma...
Facilities
Tertiary trauma centre with a trauma team, including neurosurgery, orthopedics, general surgery and anesthesiology
Emergency operation theatre, triage room, trauma bay, transit ward, a pneumatic system for blood investigation, and shock room that is exclusively meant for cardiac arrest patients for CPR (Cardiopulmonary resuscitation)
The hospital offers 24/7 ambulance services and has an ambulance control room.
Zero-infection environment, Zero-infection certified blood and blood components and many other critical factors, imperative in critical care treatment
24-hour pharmacy

Ambulance

Saving time is the first step in saving lives. Ambulance Services are used when ground transport could endanger a patient's life. They are also indispensable when the patient is in a remote area and time is critical. We are equipping our hospital with emergency ambulance services. Both fixed wing aircrafts and helicopters provide the services. Aviation companies take care of the aviation logistics. Medical aspects like trained personnel, equipment and care are provided by the 1066 emergency services.

Ambulance services conquer time and distance in emergencies and saves lives.

Ambulances that are well equipped and manned by trained personnel –indeed a veritable 'Hospital on Wheels'.
Ambulance Services for remote areas and life-threatening emergencies.
Effective communication system between the central control room, ambulances and the emergency facilities in the hospitals.
Standardised emergency rooms in the hospital

In a medical emergency, action separates the heroes from the spectators. The faster one reaches for help, the better are the chances of the victim's recovery!

The department is located on Ground Floor of AGP Hospital Building and provides emergency medical services 24 hrs. a day, 7 days a week, manned by qualified team of doctors and para-medical staff with all essential medical facilities. It also has an attached minor operation theatre.

| | | |
| --- | --- | --- |
| Location | - | Ground Floor, BH |
| In Emergency | - | 0413- 229 2229 |
| Dept. Timings | - | Emergency – 24 hrs |