centre-TraumaCareOrthopedics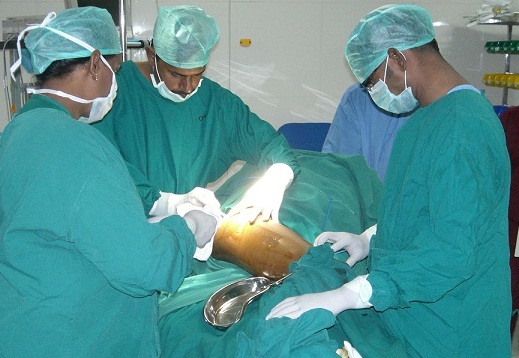 The OSHA Orthopedic department is a comprehensive tertiary care centre designed to manage patients of all ages with orthopedic problems, utilizing the latest available technique and technology. It consists of Outpatient department, Emergency and Trauma services, Clean operating theatre, orthopedic ward, and well equipped physiotherapy unit. All these interconnected areas work to offer the best possible care for the patient with varying needs . With every passing year, we have been treating increasing number of complex orthopedic problems and trauma victims at our centre. Our mantra is patient centered care keeping in mind the needs of the individual.
The Department has been designed to provide high standard individualized orthopedic care. In the outpatient department, detailed explanation to the patients with appropriate counseling is provided. Round the clock emergency and trauma services with well trained medical and paramedical staff are available to cater to acutely ill orthopedic patients.
Our OSHA clean operating theatre is a dedicated state of art operating room equipped with laminar air flow and HEPA filter. Operating room personnel trained in infection control ensure near zero levels of nosocomical infection. Availability of imported power drill and saw in addition to sophisticated C-arm imaging accentuates the technological finesse. A devoted fully equipped septic operation theatre for patients who have undergone surgeries are managed by well trained orthopedic staff nurse.
Our Physiotheraphy unit boasts of latest equipment necessary for mobilization of various major joints. It has LASER, ICT, IPT, IFT, ULTRASOUND, SWD and other treatment modalities
OUR
TEAM
Our team is committed to provide highest level of care and is lead by Dr. Aravindhan kalamegam MBBS., D.Ortho, DNB (ortho) . He has advanced training in trauma Care, joint Replacement, Spine Surgery, Arthroscopy, Sports Injuries and Pediatric Orthopedics. He is ably assisted by Dr. R. Vijayaragavan MBBS, DNB (ortho) and visiting orthopedic consultants who add strength to the team with their excellent training in various sub specialities of orthopedics. In addition, the team is supported by multidisciplinary team of specialist in other related fields- Dr.Elangovan & Dr. Sumathi Elangovan Senior interventional Cardiologist, Prof. M. Nachiappan , Senior Cardiothoracic Surgeon, Dr.C.S. Adhiganesh & Dr.R. Kannan Cardiac Anesthetist and Dr.Tiroumourougane Serane .V Consultant Neonatologist and Pediatrician
PROBLEMS HANDLED BY US
The Team is experienced in managing all orthopedic emergencies including multiple fractures and joint dislocations. The following is an abridged list of conditions managed by our team
Closed & Open fractures
Limb injuries
Tendon and soft tissue injuries
Sports injuries
Knee & Shoulder instability & recurrent dislocation
Osteoarthritis & Osteoporosis
Low Backache, Sciatica
Cervical Spondylosis
CTEV and other congenital and developmental disorders
Ostero-articular infections
Spinal deformity
Highlights
The Orthopedic institutes perform surgeries on the bones and joints which include the most current Arthroscopic and Reconstructive techniques. Joint replacements including
Shoulder surgeries and the most delicate hand micro surgeries are all performed with great precision and expertise.
A.G. Padmavati's Hospitals is also a pioneer in Articular cartilage Implantation (ACI). Cartilage regeneration surgery, including micro-fracturing, mosaic-plasty are all performed.
There are dedicated units for Traumatology which involves treatment for dislocations and fractures with very minimal down time for the patient.
Orthopedic Oncology for treating bone cancers is also a key specialisation of our hospitals.
We also have modern Sports medicine centres at all our facilities, where most sports injuries (like damage to ligaments, meniscus, cartilage etc. ) can now be treated with key-hole (arthroscopic) surgery. Severely damaged joints can be replaced. These artificial joints behave almost like normal joints and could last for about 20-25 years
We are also one of the few centres having specialised Pediatric Orthopedics units offering the whole range of Pediatric Orthopedics.
Using a revolutionary combination of CT imaging/mapping, modelling software (virtual) and 3D printing technology, medical miracles like the True Personalized Knee are becoming a reality. Robotic-Guided techniques will also become a routine at our hospitals.
Our Physical Therapy units provide rehabilitation and pain management and use sophisticated equipments and protocols to provide recovery in the quickest timeframe.